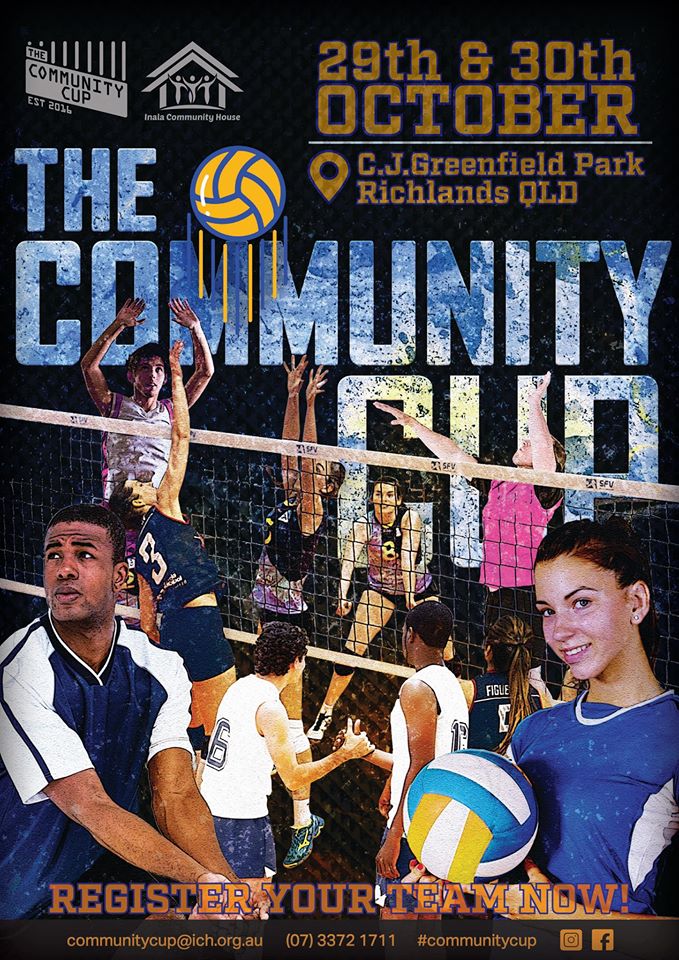 Inala Community House is excited to introduce our latest community fundraising sports event – ICH Community Cup! All proceeds will go into funding our new program Project Mentor to help youth at risk.
ICH COMMUNITY CUP
DATES: 29th & 30th October 2016 (Saturday & Sunday)
TIME: Approximately 8am-5pm
VENUE: C.J. Greenfield Park, Richlands Queensland
REGISTRATION FEE: Only $200 per team of 6-10 people
TO REGISTER: https://www.eventbrite.com.au/e/the-community-cup-tickets-26716992243
ICH Community Cup is a two full-day weekend event open to all ages and backgrounds. We encourage individuals, families and communities to create your own teams and come have fun with us! If you don't have a team, simply register as an individual player and we will find a team for you!
The main highlight is playing Tri-Ball – which is basically the same as standard volleyball, but with three volleyball nets and three teams playing on the same court, with one ball. Put your motor skills and coordination to test! It doesn't matter whether you are a volleyball expert or have never played before, we are sure that ICH Community Cup will be a memorable experience for you.
THREE-WAY VOLLEYBALL: Three times the challenge, three times the fun!
There will be other side activities, food and games to keep you fully occupied throughout these two days. Attractive prizes are also up grab for grabs.
So what are you waiting for? Come join us, play some volleyball and support a good cause! We look forward to raise enough funds to kick-start Project Mentor – a volunteer mentoring program to make positive impact for youth at risk within our community.
At the same time, we welcome any business sponsorship, ambassadors, endorsements and donations. ICH Community Cup presents a great opportunity for your organisation to gain exposure while making a real difference within our community. We thank you for your support in advance.
Together let's have a ball of a time!
For any questions or feedback about ICH Community Cup, please contact us:
ICH Community Cup Event Registration: https://www.eventbrite.com.au/e/the-community-cup-tickets-26716992243
ICH Community Cup Facebook: https://www.facebook.com/ICHCommunityCup
Phone Number: (07) 3372 1711
E-mail: communitycup@ich.org.au