Inala Community House's Community Settlement Service (CSS) aims to promote self-reliance of our newly arrived clients and achieve successful long-term settlement in Australian society. Our services commonly include casework, referrals, classes and information sessions covering a wide range of issues according to changing needs.
On Wednesday 8th March 2017, our Community Settlement Service (CSS)'s Mother-to-Baby Massage Group organised a special graduation party to celebrate the achievements of our participants in completing our first ever five-week course!
The Mother-to-Baby Massage Group is a strategic partnership between Inala Community House (http://www.ich.org.au | https://www.facebook.com/ICHAustralia), Queensland Mental Health Commission (https://www.qmhc.qld.gov.au) and Communify QLD (http://www.communify.org.au). We endeavour to educate women on how to massage, communicate and bond more effectively with their babies, while reducing social isolation especially among culturally and linguistically diverse communities in Australia.
The biggest thank you to both wonderful Group facilitators: Linda Rylands from Diversity OT (http://www.diversityot.com.au | https://www.facebook.com/diversityot) and Shameera from Sweetpea Infant Massage (https://www.facebook.com/sweetpeainfantmassage).
"Please continue to massage your babies at home, and always adapt your techniques to suit their developmental needs and habits," advised Group facilitator Shameera during the final session.

As calming instrumental music played in the background, our participants were encouraged to freely massage their babies, ask questions, exchange insights and gain professional feedback.

In the end, we also asked for participants' final feedback in order to review and improve our course to help more people in future.
All smiles: Community Engagement Services Manager Haley Kiata, Nayda from Forest Lake Councillor Charles Strunk's office and babies.  
"Councillor Charles Strunk would like to send his congratulations to the success of this amazing Mother-to-Baby Massage Group. We always look forward in supporting more community-centred initiatives like this," said Nayda the media representative from Forest Lake Councillor Charles Strunk's office.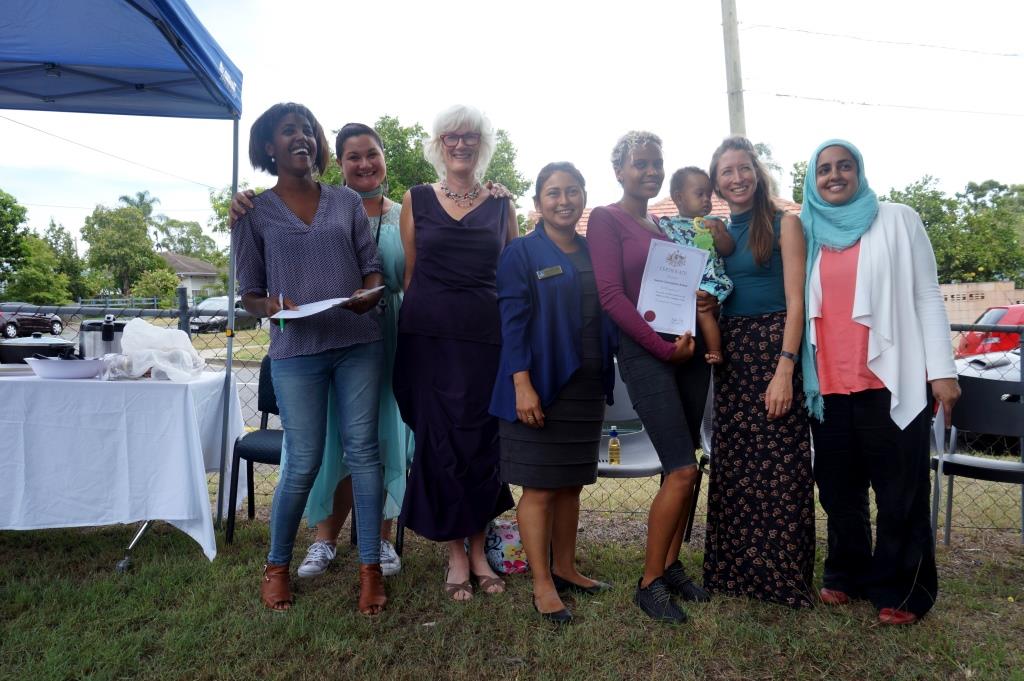 After the final Mother-to-Baby Massage Group session, we organised a special certificate and gift award ceremony. Special thank you to Federal Labor Member for Oxley Milton Dick for providing the certificates to acknowledge our participants and facilitators.
"We would like to thank everyone for making this Mother-to-Baby Massage Group happen. We are proud of our participants for their full attendance and cooperation for the past five weeks. At Inala Community House, we pride ourselves to be innovative and adaptive to our community's needs through various programs and activities," said Group main coordinator Seble Tadesse.

"We have thoroughly enjoyed and will miss our weekly sessions watching every mother grow along with their babies," said Group facilitator Shameera.

"This is the best Group I've facilitated so far with great attendance every week. Besides sharing the useful knowledge of baby massage, we have more importantly built meaningful connections among this unique group of women," said Group facilitator Linda.
"Thank you to both faciliators Linda and Shameera for always being so patient to teach us how to massage our babies. I have been really excited to attend the weekly session. Finally, biggest thank you to Inala Community House for introducing this enriching and socially-inclusive course," said Wegahta Gebreyesus who originated from Eritrea and now lives in Annerley.
Free lunch buffet spread for all to enjoy while networking.
The art of giving back: thank you to our wonderful CSS client Mulu Kbede from Ethiopia who volunteered to provide delicious homemade Ethiopian food!
Everyone enjoyed a taste of unique Ethiopian culture.
For more information about the wide range of services provided by Inala Community House, please contact us today (07) 3372 1711 | info@ich.org.au.