On Friday 1st December 2017, 'My Place' Family Day Care celebrated our 2017 Educator Christmas Party with our Coordinators, Educators and their families.
The Party was held at Journeys Kitchen and Bar, Springfield (https://www.facebook.com/journeyskitchenandbar). All guests started to arrive around 6.30pm and mingled until dinner buffet was promptly served at 7pm.
"Welcome everyone to our 2017 Educator Christmas Party. 'My Place' Family Day Care has organised this special annual event as a big 'thank you' to all our Educators who have dedicated yourselves in caring for children every day. We sincerely value every Educator as part of our big 'My Place' family. We hope everyone will enjoy tonight as we look forward to a bigger and better 2018," said 'My Place' Family Day Care Team Leader Barbara Stonehouse.
It's a full house: Due to the overwhelmingly positive response from our Educators, we managed to book out the entire restaurant for the night. Educators and their families enjoyed full privacy and freedom to explore and mix around.
The Party served as the perfect opportunity for Educators to meet and network with each other's partners, children and family members – the more the merrier!
Throughout the night, everyone couldn't help but rave about the delectable feast wonderfully prepared by Journeys Kitchen and Bar. Yum, yum, yum!
Besides feasting, our service organised various fun ice breaker games and activities to get everyone involved and 'warmed up'!
Everyone was also welcome to participate in a $10 Secret Santa gift exchange. It was fun watching everyone trying to pick and guess a gift of their preference!
Raffle tickets were also available ($1 for 1, $5 for 6) for a chance to win attractive hamper prizes, as well as a free lucky draw giveaway open to all attendees.
At the end of the event, every Educator was gifted a specially-made 'My Place' Family Day Care mug and a USB Flash Drive containing important forms and documents to assist with Educator's day-to-day family day care operations.
 "Great food, great venue and great company! It's wonderful to catch up with Educator friends especially those whom you haven't met in a while," said our Educator Jecille Revillas.
"A very good night, great food and lovely venue," said another Educator Pat Davidson.
"It was a great night. Everyone looked beautiful, the venue was lovely, the food was yum and I have to agree that the USB is an awesome idea – no more calling in for paperwork," said Educator Kerri Roughley.
Last but not least, thank you again to our 'My Place' Family Day Care Coordination Team for the well-received event and another wonderful year serving our Educators and Families in all Queensland areas.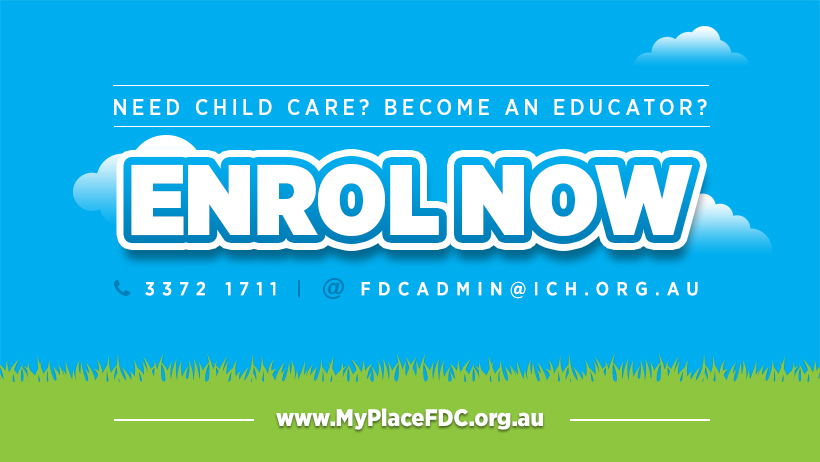 To become an Educator or enrol your child at 'My Place' Family Day Care, please visit our website (www.MyPlaceFDC.org.au), call (07) 3372 1711 or e-mail FDCadmin@ich.org.au today!